Paintings Made By Elephants
Original Art Made By Elephants | Free Shipping
Original Paintings Made By Elephants
Authentic Paintings Made by Elephants at Maetaeng Elephant Park & Clinic in Thailand. We are the original seller of elephant paintings from Thailand. Maetaeng Elephant Park & Clinic is also the home of world-famous Elephant Suda. Free worldwide delivery within 10 days.
Our Latest Amazing Paintings
We are the originator in authentic paintings made by elephants. Our lovely big artists have become famous around the world for their incredible skills.
With dozens of intelligent concepts, you'll find what you're looking for in our store, and it will be unique and personalized to match.
Our customer support is second to none – users rave about how we don't rest until every issue is solved to their satisfaction.

With 128-bit SSL security with advanced encryption you are guaranteed that your purchases are safe.
Watch Joe Rogan Talk About Us
In this clip, Joe Rogan marvels at the artistic talents of Suda the elephant and discusses the incredible initiative of Elephant Art Online, a website dedicated to selling paintings made by elephants and supporting their care and wellbeing in Chiang Mai, Thailand.
Discover why our customers consistently rate us 5-stars on Trustpilot, praising not only the uniqueness and quality of the elephant-created art but also our commitment to the welfare of the elephants and the transparent and efficient customer service experience we provide.
These paintings are the real thing
The shipping time was very fast considering where it came from. Tracking was provided and the authenticity and quality of the painting were beyond description. We loved it. We bought a second one for our daughter who loves elephants. I highly recommend this organization for what they are doing with these humanely treated animals. It's very entertaining to watch these elephants paint real pictures, and not just a bunch of brush strokes on a canvas like some groups have their animals do. These are actual paintings by the elephants themselves.
I was a little skeptical
I was a little skeptical, but the experience exceeded my expectations. I received the beautiful painting, along with still photos of it being painted, in a timely fashion. By email, I received a video of the same. The details of the painting matched the pictures/video. I would not hesitate to buy again or recommend to a friend.
Elephant Art Online is excellent
Elephant Art Online is excellent. The paintings are phenomenal and you also receive photos and videos of the elephant painting the artwork. Watching the elephants create the art is a fantastic experience. The customer service is also the best I ever received from any company. My painting was lost in the mail and they arranged for the elephant (Suda) to make me another painting which was provided to me at no charge. I would highly recommend that everyone purchase a piece of art from Elephant Art Online.
Don't miss our current promotion: when you commission a painting, you'll receive another masterpiece from our stock absolutely free, doubling the beauty and impact of your support for our elephants and their wellbeing!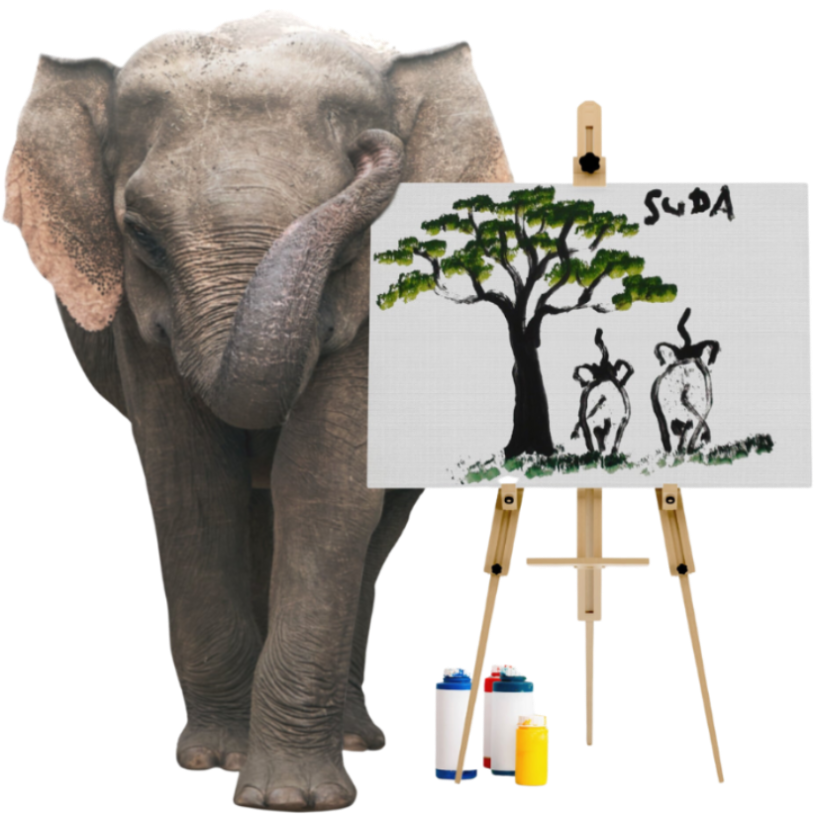 Our Most Popular Paintings
We are honored to have been featured by several major news organizations, with special attention given to Suda the elephant, whose extraordinary talent and story have captivated the hearts of people all over the world and highlighted our mission to support elephant welfare.