It may seem unbelievable, but it's true! The process is astonishing, even when you understand how it is achieved.
Scroll down for photos and video
Elephant painting is a beautiful collaboration between an elephant and its mahout (the elephant's lifelong caretaker). It showcases the extraordinary bond between them, but even then, it takes great time and effort. Not all elephants and mahouts can accomplish this. At our park, we have over 50 elephants, but only two of them choose to paint.
Our elephants are never coerced or subjected to any form of mistreatment to produce these paintings. Each elephant in our care is treated with the highest level of respect and compassion, regardless of whether they participate in painting activities or not.
First, the art supplies are prepped. We use water-based acrylic paints and either poster board or canvas. The mahout uses a palette to mix the colors and the brushes are custom made so elephants can comfortably hold them and paint with their trunks.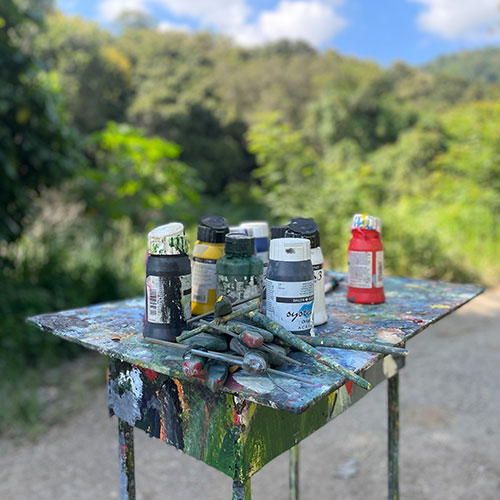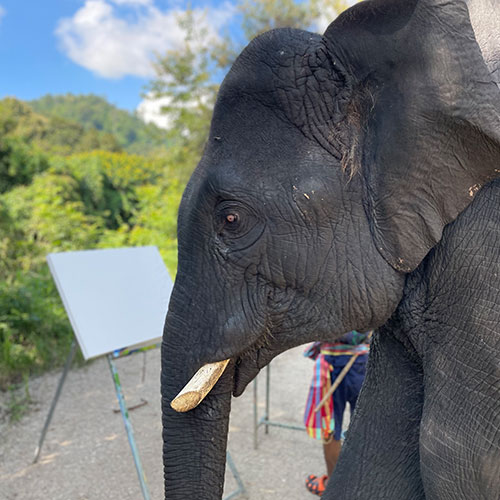 Every great work starts with a blank canvas
Every piece begins with a blank canvas and a vision. Depending on the complexity of the painting, it can take up to 2 hours to complete, and the mahout takes several breaks during this time to make sure the elephant is not bored or hungry.
The mahout directs the elephant during the painting process by using verbal cues and by holding the elephant's ear. There are no nails or other tools used during the session. 
Here you can see how one of our artists, Tunwa, starts one of his paintings with a background that would make Bob Ross wide-eyed with envy. In this particular painting, the first part is not too difficult and involves broad strokes to create a blue sky background.
Note: When you buy a painting from us, we offer the option to capture videos and photos during the creation of your painting.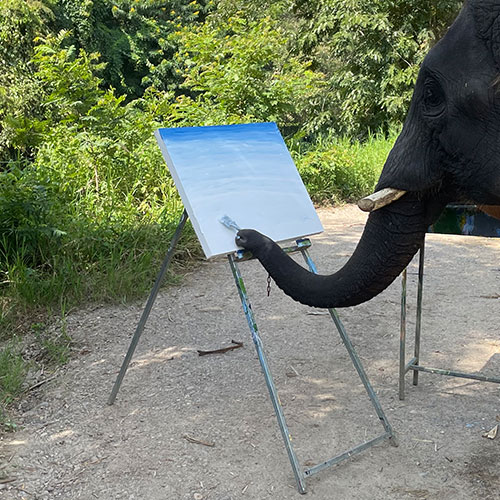 Regular breaks are very important. Elephants need a lot of water, and a snack is always appreciated. Bamboo and different types of fruit (mainly bananas) are an elephant's food of choice. If it's a hot day, a soothing bath in the river is always appreciated. 
After some rest, it's time to keep the artistic juices flowing. Now the difficult part starts, and in this case Tunwa is painting a tree. It should be added that there are usually several more breaks taken during this part of the process.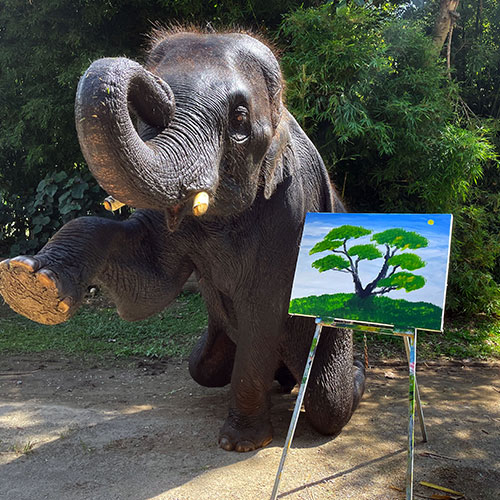 A masterpiece has been created and a proud artist strikes a pose. Tunwa is well rewarded each time he completes a painting and spends the rest of the day with his mahout going for walks or resting in the shade with his friends. And of course, he gets a well-deserved snack for his efforts.
Video showing Elephant Tunwa Painting
Below is a video showing when Elephant Artist Tunwa creates an amazing painting.
I was a little skeptical, but the experience exceeded my expectations. I received the beautiful painting, along with still photos of it being painted, in a timely fashion. By email, I received a video of the same. I would not hesitate to buy again or recommend to a friend.
Elephant Art Online is excellent. The paintings are phenomenal and you also receive photos and videos of the elephant painting the artwork. Watching the elephants create the art is a fantastic experience. The customer service is also the best I ever received from any company.
Video from our Elephant Clinic