Who we are and what we are doing.
Based in Chiang Mai, Thailand
We are the original seller of
Elephant Art in Thailand
Elephant Art Online is a close partner of Maetaeng Elephant Park & Clinic in Thailand. Maetaeng Elephant Park was formed in the early 90s from the result of the ban on Logging in Thailand in 1989. Seeing increased numbers of elephants forced to roam the city streets and take up work in the Illegal logging trade, we decided to create a safe and friendly work environment that visitors to the Kingdom of Thailand would be able to help support by visiting us.
In 2000 we started to teach our elephants how to paint. The idea was to raise enough money so that we could build an elephant hospital. In 2006 Maetaeng Elephant Park & Clinic became the first government licensed elephant hospital in Northern Thailand.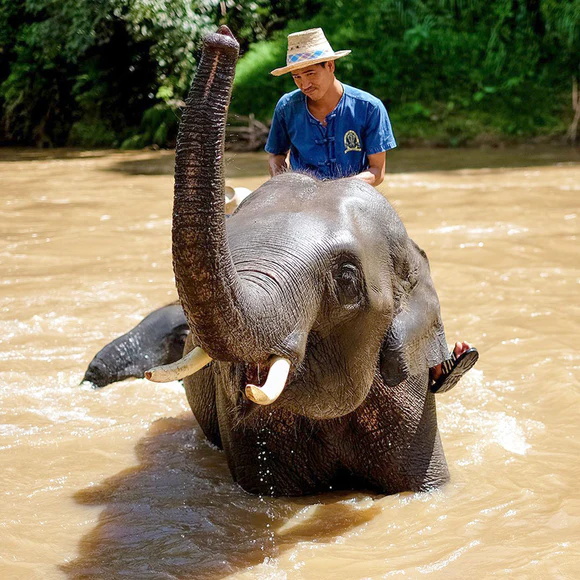 Our elephants are in our hearts
Our elephants paint artworks to fund the Elephant Hospital at Maetaeng Elephant Park & Clinic in Chiang Mai, Thailand. We provide care not just for our own elephants, but for all elephants in the Chiang Mai vicinity. Nearly three hundred elephants benefit from our services, all treated without cost.
We have over 50 resident elephants at our park, and the cost for only feeding them exceeds $700,000 per year.
Your support is both needed and appreciated.
Simplicity in design and form
We're just getting started
Letterpress fam meh edison bulb, glossier gastropub gluten-free disrupt tousled taxidermy food truck knausgaard live-edge. Tumblr celiac flannel mumblecore gluten-free everyday carry. Fixie kitsch wayfarers dream roof party craft beer salvia knausgaard franzen. Beard XOXO listicle, vaporware trust fund shaman cred.
Photos from our Elephant Park & Clinic in Thailand
I was a little skeptical, but the experience exceeded my expectations. I received the beautiful painting, along with still photos of it being painted, in a timely fashion. By email, I received a video of the same. I would not hesitate to buy again or recommend to a friend.
Elephant Art Online is excellent. The paintings are phenomenal and you also receive photos and videos of the elephant painting the artwork. Watching the elephants create the art is a fantastic experience. The customer service is also the best I ever received from any company.
Video from our Elephant Clinic